With over eight million inhabitants, Hong Kong can get pretty hectic. Needless to say, if you don't like crowded places, this may not be the travel destination for you. If you can handle it, however, Hong Kong will reward you with incredible experiences!
There is so much to do in Hong Kong, and we've gathered our picks for what we recommend you should do and see while you're there.
The Central Water Fountain in Kowloon Park
The Hong Kong Museum of History will fill you in on Hong Kong's complicated past with a range of informative exhibits, and after you've toured it you can then walk through Kowloon Park, which includes a swimming pool, various ponds, a Chinese garden, and an aviary.
Mong Kok street markets
The busiest markets in Hong Kong offer inexpensive souvenirs, a ladies market full of clothing and accessories, and the Temple Street Night Market. They are open every day from noon into the late evening.
From here you can also visit the Tsim Sha Tsui Promenade, which runs along the waterfront and offers a fantastic view of the skyline. You absolutely have to see the Avenue of Stars too, which is the Hollywood of Hong Kong. It features the Walk of Fame for the stars of Chinese and Western film. It also offers shops, restaurants, and an outdoor market.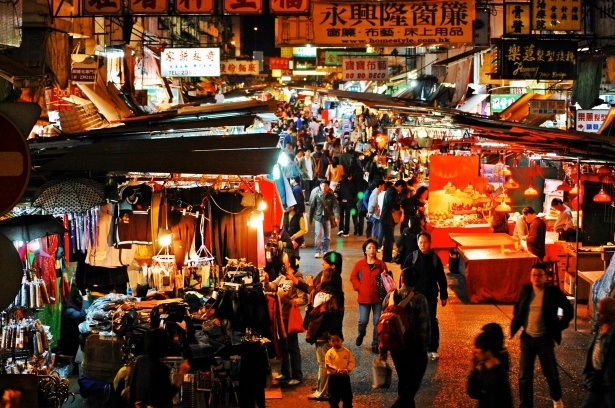 The Star Ferry
Travel across the harbour from Kowloon Island to Hong Kong Island with the Star Ferry, which only costs HKD2.70 and will give you some camera-worthy views of the city while you take a relaxing journey.
Bigfoot Tours
No, there are no Yetis, but Bigfoot Tours offer small group food tours that take about four hours, and will give you a great sampling of Hong Kong's many delicacies. Make sure you arrive with an empty stomach; you don't want to pass up anything (unless they offer you rats or rodents!
The Ping Shan Heritage Trail
In the northern district there's a walking trail that will lead you to the ancient sights of the Tang clan, the Che Kung Temple, and the Temple of Ten Thousand Buddhas. All of these are worth the trek, plus you'll get plenty of exercise to walk off all the food!

If you only have a short time in this wonderful city, our picks will give you a great overview of Hong Kong's food, history and culture. You'll taste amazing food and pick up souvenirs cheap enough that you'll be buying for as many of your friends as possible! We know you'll enjoy the magical city of Hong Kong.